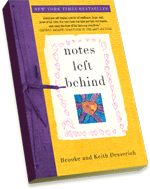 Notes Left Behind is the true story of a six-year-old girl named Elena and her battle against brain cancer. In her last days she showed a community how to love and how to live. Written through the eyes of her parents, Keith and Brooke Desserich, as a remembrance for Elena's younger sister, her daily story tells one of humility and inspiration as she lives each day, one at a time.
Click on the logos below to order your copy of Notes Left Behind from your favorite retailer.

My heart goes out to them...but I have to admire the way they were able to teach Elena to see her life as joyful, and not as a tragedy. They really are inspiring parents.
Susan Wagner, AOL's ParentDish.com